Facebook introduced a 'fan subscription feature' which allows creators to share 'exclusive' contents with their fans with a membership fee. This allows creators to generate money straight from their follower/fans. Few years ago, Facebook have launched a group subscription feature which allows group admins to charge $4.99 to $29.99 per month for membership access. Unlike the earlier subscription feature which gained seemed to get some positive traction, Facebook's fan subscription is meeting resistance from online creators.
The feature is currently at its beta stage with creators taking 100% of the revenue, however, this will change once the feature is rolled out with the company taking out 30% from its subscription revenue. In addition, Facebook will hold the rights for all the contents created within the platform as stated in under the Supplemental clause within its terms and conditions. This was based from an information leaked to Tech Crunch. Following Facebook's data breach and privacy scandal with Cambridge Analytica, the terms under the Supplemental clause are getting a lot of raised eyebrows. This means Facebook will continuously have full access on all contents shared by the creators even after subscription is ceased.
A 30% subscription revenue for Facebook – as compared to Patreons 10% subscription revenue – is not enough to entice online creators. Facebook reached out to Matt Saincome, Hard Times founder, to test the fan subscription feature who initially was thrilled by the idea but later on decided to decline the offer. According to an article posted by Verge's, Saincome's main issue of contention was that via this new platform, Facebook would simply – eventually – increase its share from generated revenue even more and extend its access (and control) over content created within the platform.
While the Instant Articles program was just released to publishers of all sizes and works in a similar fashion, Facebook has been working with a number of major brands over the last several months to test its effectiveness. So far, the social network has reported seeing marked improvements to a number of key performance metrics: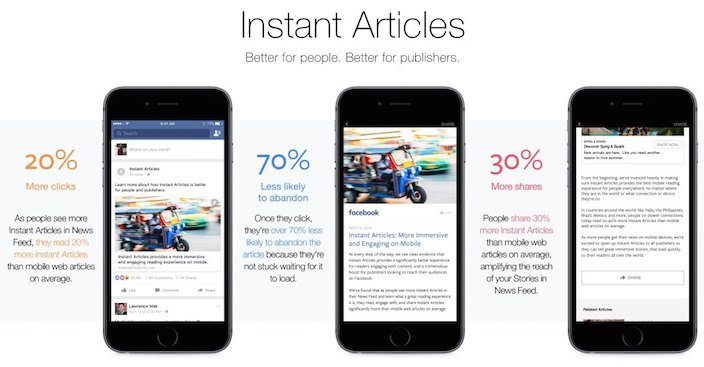 Though the "revenue-cut" of Facebook is not yet a final piece or service, the power Facebook will have over content created, worries creators who have already lost their trust with the company amid numerous privacy scandals and security issues the past year.
I'd love to hear your view so do not hesitate to contact me, subscribe to this blog for free, click here to arrange a FREE Consultancy meeting, send me an email at Nick@CFMGroup.co.uk or Follow me below on Facebook, Twitter, LinkedIn and Instagram